4.3.2022 klo 08:30 -
4.3.2022 klo 10:00
Valtakunnallinen
Live-stream
Engineers will save the world – Skills needed for the green transition in Finland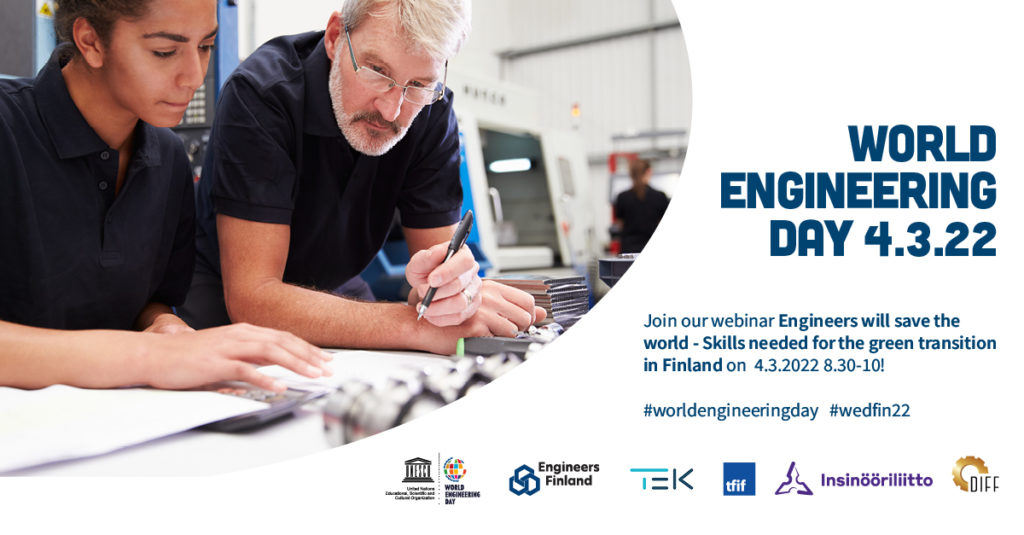 The event highlights the critical role of engineers in the transition to a low-carbon society by publishing the results of a new report and with keynote and comments from high-level speakers.
Program:
08.30 Opening of the event
Annika Nylander, CEO, Tekniska Föreningen i Finland TFiF
08.35 Keynote
Markku Ollikainen, Chairperson, Finnish Climate Panel.
09.05 Presentation of research results
Millariia Wikman, Senior consultant, Gaia
09.25 Commentators
Saranna Sandström, Project leader, FrEE- Capacity for Carbon Free Sustainable Growth -project
Jukka Ruusunen, President & CEO, Fingrid
Mari-Leena Talvitie, Member of Parliament
09.55 Closing words
Annika Nylander, CEO, Tekniska Föreningen i Finland TFiF
10.00 End of webinar
The World Engineering Day for Sustainable Development (WED) is an official International day proclaimed in 2019 by the United Nationals Educations, Scientific and Cultural Organisation (UNESCO). WED is an opportunity to celebrate engineering and the contribution of the world's engineers for a better, sustainable world.
The webinar is organized by Engineers Finland. Read more at Engineers Finland website.
Join the conversation #worldengineeringday #wedfin22
Join also the WED2022 event of Association of Nordic Engineers, starting at 10.00 CET. Read more.